Carole Corey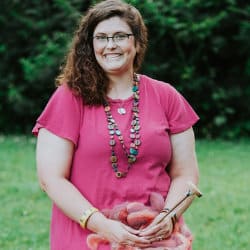 Carole Ricketts Corey is the owner of CaroleMakes. CaroleMakes is all about fabric and fiber. Her fabric studio is located in Plainfield, Indiana and her fiber studio is located in Nashville, Indiana. She is passionate about fiber education as a means of preservation of the craft and generating excitement for the technique.
Carole's fiber studio is located inside the Bussert Gallery in Nashville. There she processes wool and fiber, weaves on a variety of looms, and spins. She also teaches a variety of classes in Hendricks County and accepts personal lessons. CaroleMakes can be found on Facebook, Instagram, YouTube and TikTok. She has a large following and subscribers - and uses social media as a means of education for the craft. You can subscribe to her YouTube channel and search for a variety of topics such as "how to process fiber," "making an art batt," and
"how to chain ply."
She is 40, married and has 1 daughter (9). She lives in Plainfield. Carole has a background in elementary special education and early childhood education before starting her own business. They have 4 dogs, loves football and reading.
Workshops